FAITH, FOOD AND HOPE FOR THE FUTURE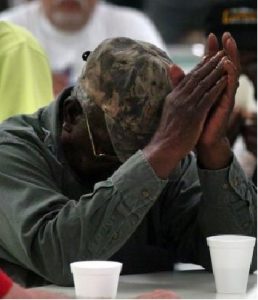 Everyone is welcome here at Our Daily Bread Soup Kitchen, and everyone who enters is a friend. We are a humble, faith based soup kitchen and ministry, providing a hot meal for the stomach and a helping of God's word for the soul. We also have a clothing room stocked with donated clothes and we have hygiene products that are available on request; on occasion we put together bags and pass them out to all our friends. Everything is free, provided thru the heartfelt generosity of individuals, churches, businesses and organizations in our community. All donations are accepted and are tax deductible since we are a 501(c)3 tax exempt organization. We are not government funded.
We are sponsored by more than 50 churches of different denominations from Allen County and the surrounding counties.
For some of our friends, the meal we serve is the only hot meal they will eat on a given day. For some it is the fellowship and camaraderie that brings them here. Whatever the reason, all are greeted with a smile and often a hug from one of our staff or volunteers.
Our doors open at 7:00 am Monday through Friday. We begin serving donuts and coffee at 9:00 am. At 11:30 we have our announcements, food for thought, and our blessing. Then we begin serving our meal until 1:00.
Drop Your Change
Our Daily Bread's Drop Your Change For Good fundraiser is August 12 from 12:00-6:00 in the Clocktower Plaza parking lot. This fun day includes live music, food, shirts and other goodies for sale, bouncy houses, face painting, a live remote with Billy Elvis on 104.9 The Eagle and much more.
Your support is vital to the success of Drop Your Change. We encourage you to become a sponsor!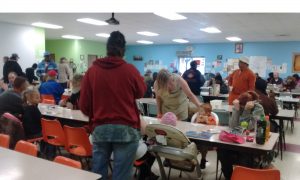 History: Our roots begin in 1991 when a group called Church People for Change and Reconciliation began serving a daily meal. This group consisted of 18 different churches from many different denominations. In February of 1992, a building at 610 E. North Street was purchased and renovated to use as a soup kitchen. In 2001, that building was purchased by the Lima Board of Education for the current Lima Senior School complex and we moved to our present site at 125 S. Central Ave. In 2006, Church People for Change and Reconciliation was dissolved, we were reincorporated and renamed Our Daily Bread Soup Kitchen, and became a standalone entity.
OUR HOURS
Our Daily Bread is open from 7:00 am until 5:30 pm Monday – Friday, serving breakfast, lunch, and dinner.
OUR DAILY UPDATE

Our Daily Bread Director Randy Kimpel did a fabulous job as a guest on the Hello Lima podcast. Listen to it here.
Our Daily Bread is in need of:
meat – beef, poultry and pork
baked goods to use as desserts
condiments
salad dressings
#10 cans (commercial size) of vegetables
canned fruits
bulk coffee
napkins
laundry detergent pods
commercial tin foil and saran wrap
paper towels, etc.
We are also in need of monetary donations. Checks may be mailed to:
Our Daily Bread P.O. Box 488 Lima, OH 45802, or you may donate securely with PayPal by clicking the Donate button in the menu. You do not need a PayPal account to use this option.